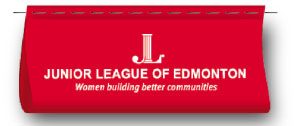 Through effective leadership and passionate volunteers, Junior Leagues work to improve their communities, develop the potential of women and promote voluntarism.
Junior League of Edmonton improves the community not only through volunteerism, but also through the development of programs like the annual diaper drive for the Bissell Centre and Kids in the Kitchen, in partnership with NAIT and the Boys and Girls Club. Through our Community Assistance Fund, we provide grants to help meet critical, unmet needs in our community. Recent recipients of these grants include: Rise-Up House, Ecole Dunluce School (Early Risers Reading Club), ABC Head Start, Bissell Centre, and Santa's Anonymous. Funds for these programs are raised through a variety of initiatives, the largest being Homes for the Holidays, an annual holiday home tour, and Indulgence, an evening of food and wine.
We develop the potential of women by providing leadership and training opportunities to all members. Members learn through the hands-on experience of sitting on the Board and/or committees, contributing to policy, and learning about the effective running of meetings and fulfilling committee goals and objectives. Training opportunities are provided at general meetings, through annual retreats, and via conferences around North America.
Junior League of Edmonton promotes volunteerism by not only placing league members on various committees, but also by organizing community activities like Done-in-a-Days (DIADs). DIADs contribute a lot of volunteer hours within the span of one day. In the last year, these have included work at Basically Babies, Santa's Anonymous, Ecole Dunluce School, and in August we'll be doing Habitat for Humanity.
For more information on the Junior League of Edmonton, visit http://jledmonton.com/.
The Junior League: Women Around the World as Catalysts for Lasting Community Change